By Saralynn White
Does prolonged medical credentialing and state licensing impact patient care?
Facing unusually long wait times for credentialing and medical licenses in many states, physicians and advanced practice providers say it's preventing them from making a living – and impeding patients from getting the care they need.
Physician and provider recruiters are well aware of the state medical licensing delays. For years, recruitment professionals have managed the challenges that prolonged state licensure delays have on new providers who are eagerly waiting to join an organization practice. In some cases, the unpredictable licensure timelines and unforeseen delays have resulted in organizations adjusting provider start dates multiple times. In turn, this can mean delaying appointments for patients who may have already been waiting to see a provider for quite some time.
The COVID-19 pandemic contributed to the backlog, adding to the physician shortage and other factors hampering healthcare recruiting – but does it affect patient care? Deborah Baker, Director of Legal and Regulatory Policy for the American Psychological Association,¹ believes it does. "If we don't have efficient, consistent processing of these licensing applications, it's just snowballing the overwhelming need," said Baker. "This is more than just an administrative issue, this really is a public health issue."
The length of time it takes to get a license in each state varies. Each state has its own licensing process, and although licensing requirements are very similar across the country, most states require physicians to be separately licensed in every state in which they practice. In addition to state-based licensure requirements, physicians performing services for multiple hospitals (like radiologists reading digital films via teleradiology) must be separately credentialed and privileged at each hospital.
The cause of the delays can vary, but state budgets and lack of staffing are common reasons. The processing speed can also vary by state and profession. Most states license numerous other professions and occupations, not just those in healthcare. Some states have independent medical boards that approve licenses, while others house their boards within a larger agency. Many states also use manual processing systems, requiring applicants to send forms, transcripts, and other records via fax or mail.
Physicians and providers need to be aware of the time it takes to get a license or risk being blindsided by licensure delays. Physicians are typically told it will take about sixty days, but in some states, the process can take six months or more. Prolonged delays have caused some physicians to pivot career plans or work in limbo in a location where they are licensed and credentialed until they can get a license to work in another state, practice, or hospital. All the while, patients await delivery of care.

Delayed licensing is not a new problem, either. In 2009, the California Medical Association2 filed a suit claiming that furloughs instituted by the state unacceptably slowed the state medical board's processing of applicants for physician licenses. The state medical board had a backlog of applications well before California began its furlough program. In 2020, the healthcare system was already experiencing a physician shortage, impacting access to care, when the COVID-19 pandemic exacerbated the problem. It also revealed how ill-prepared state licensure and hospital credentialing procedures are when a crisis requires hiring more physicians to meet patient-care needs.
At the onset of the public health crisis, every licensing agency was forced to adapt. The Centers for Medicare and Medicaid Services (CMS) and almost every state in the country temporarily waived the requirement that physicians be licensed in the state where their patients are located.3 Many states waived or modified licensure requirements and renewal policies to ensure physicians with out-of-state licenses could practice in states with increased in-hospital demands. Did it help? NYC Health + Hospitals (at the epicenter of the crisis in the U.S.) was able to staff up to meet urgent needs during the pandemic,4 and there are numerous other examples.
The Interstate Medical Licensing Compact (IMLC)5 also provided much-needed flexibility to states that needed to license physicians to treat more patients quickly. The IMLC, an agreement between state boards of allopathic and osteopathic medicine, allows board-certified physicians in one of the member states to obtain expedited licensure in other member states. The Compact requires just one application for a physician to be licensed in multiple states where they intend to practice, which helps licensure to be completed faster and in fewer steps.
While the pandemic highlighted the need and the efficiency of the IMLC, it also changed how physicians used the compact. According to research from the American Academy of Dermatology Association,6 before 2020, a higher percentage of physicians used it for localized practice, with about 40% of physicians applying for licenses in a nearby state and an average of 1.6 licenses issued per application. However, after the pandemic began, locum tenens and telemedicine needs increased to account for 66% of applications.
What if physicians who get licenses in multiple states could also use the IMLC to maintain them? According to the American Academy of Dermatology Association,7 one of the biggest issues the IMLC hears from physicians is the difficulty in having multiple licenses with different renewal periods and continuing education requirements. In response, the IMLC is working to create a single source for physicians to log in to view all their licenses and track and control that information.
Virtual medical visits also dramatically increased during the pandemic. To prevent exposure to physicians and patients yet still serve patients, in-person visits were conducted by video. To address the critical need, some states also extended out-of-state licensing requirements for telehealth during the COVID crisis. For some specialties, telehealth has become a vital tool for physicians and patients alike, increasing and expanding access to care in communities. Under the revised licensure requirements, providers can deliver telehealth services across state lines, depending on rules set by state and federal policies. Interstate Compacts further simplify cross-state telehealth for specialists in participating states, according to the Federation of State Medical Licensing.8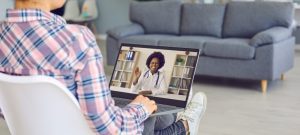 Credentialing bottlenecks with organizations and payors can also affect patient care. Any physician opening a new practice, working across state lines, changing practice states, or joining a new hospital or healthcare organization must undergo the credentialing process within that practice or organization – regardless of how long they've been working as a qualified healthcare professional. The process requires extensive paperwork and multiple steps, and every state has slightly different requirements for obtaining credentials. Some states estimate traditional credentialing to be 30 to 60 days, while others warn credentialing can take anywhere from 90 to 150 days. Every day can impact a physician or provider's ability to practice medicine legally, and patient care and access are hindered. The paperwork-filled processes can also increase stress on providers, drain physician enthusiasm, and affect their work-life balance.
Inefficient provider credentialing processes and mistakes can also increase costs. For many hospitals and health systems, 2022 was the most financially difficult year since the start of the pandemic. Research points to administrative waste as a critical driver of excess health spending. According to research from HealthAffairs,9 administrative spending accounts for 15 to 30 percent of healthcare spending, and at least half of that spending is wasteful due to a lack of standardization and coordination of administrative policies and procedures.
There's no arguing that credentialing is a labor-intensive process. However, the industry is becoming more patient-centric, making it all the more important for physicians and providers to stay up to date with their credentials. That's why many healthcare industry pundits believe automating the credentialing process can create efficiencies and substantially streamline the process. According to Physician and Practice,10 by importing information directly from primary sources like state licensing boards, a physician profile can be created and extended among health system locations. A physician could verify pre-filled data, supply any missing information, and spend 15-20 minutes versus three or four hours completing a lengthy document. Physicians also save the aggravation of refiling the same paperwork every time they move to a new state, a new hospital, or another practice. Automating and centralizing credentialing could also help healthcare organizations enhance provider satisfaction (think retention) and ultimately help deliver better patient care.
Healthcare staffing complications, exacerbated by the pandemic, put a spotlight on barriers that physician licensure and credentialing procedures have created for the delivery of healthcare. Understanding what the healthcare workforce needs to achieve desired patient outcomes and advocating for faster and easier licensing and credentialing processes is essential to patient care.
KEY TAKEAWAYS:
1. Building on the IMLC and expanding the Compact to all 50 states and four territories is an important step. It currently includes 37 states, the District of Columbia, and the Territory of Guam.
2. Having multiple licenses with different renewal periods and continuing education requirements is one of physicians' biggest issues.
3. The proposed national physician license would strengthen our ability to respond to future crises, better allocate medical personnel to areas of need, and reduce administrative costs.
4. Automating the credentialing process can create efficiencies and substantially streamline the process.
5. Providing easier and faster credentialing can allow organizations to offer a unique benefit to the candidates with whom they work, build trust among patients, and deliver patient-focused care.
SOURCES CITED:
¹'A real crisis': License backlogs in some states are preventing health care workers from seeing patients https://www.nbcnews.com/health/health-care/-real-crisis-license-backlogs-states-prevent-health-care-workers-seein-rcna14740
²Fierce Healthcare:  California Medical Association sues state over doctor licensing delays
https://www.fiercehealthcare.com/healthcare/california-medical-association-sues-state-over-doctor-licensing-delays
³Bipartisan Policy Center: What Eliminating Barriers to Interstate Telehealth Taught Us During the Pandemic
https://bipartisanpolicy.org/report/what-eliminating-barriers-to-interstate-telehealth-taught-us-during-the-pandemic
4JAMA Network | JAMA Internal Medicine: Modernize Medical Licensing, and Credentialing, Too—Lessons From the COVID-19 Pandemic, Donnie L. Bell, MD; Mitchell H. Katz, MD  https://jamanetwork.com/journals/jamainternalmedicine/fullarticle/2775344
5 Interstate Medical Licensure Compact Commission, https://www.imlcc.org/³U.S. Department of Health and Human Resources: Telehealth licensing requirements and interstate compacts
https://telehealth.hhs.gov/providers/policy-changes-during-the-covid-19-public-health-emergency/telehealth-licensing-requirements-and-interstate-compacts/
6,7American Academy of Dermatology Association (AAD), EXTENDING MEDICINE'S REACH: DermWorld takes a look at the Interstate Medical Licensure Compact, by Andrea Niermeier
https://www.aad.org/dw/monthly/2023/january/feature-extending-medicines-reach
8Federation of State Medical Licensing: U.S. States and Territories Modifying Requirements for Telehealth in Response to COVID-19
https://www.fsmb.org/siteassets/advocacy/pdf/states-waiving-licensure-requirements-for-telehealth-in-response-to-covid-19.pdf
9HealthAffairs Research Brief: The Role Of Administrative Waste In Excess US Health Spending
https://www.healthaffairs.org/do/10.1377/hpb20220909.830296/
10Physician and Practice: Streamlining credentialing to boost provider satisfaction, patient access by Grant Fields
https://www.physicianspractice.com/view/streamline-credentialing-to-boost-provider-satisfaction-and-patient-access