The Association for Advancing Physician and Provider Recruitment's (AAPPR) Board of Directors is pleased to announce the selection of Aisha DeBerry, MBA, CPRP-DEI, as its new President of the Board of Directors, effective March 24, 2023. DeBerry has served on the Board of Directors since May 2017.  AAPPR is proud to share that Aisha will be the association's first female black president.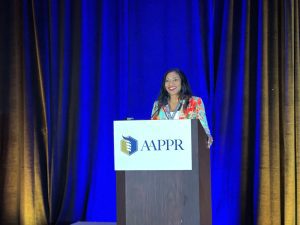 In her new role, Aisha will explore opportunities to foster deeper connections between AAPPR, its members and its partners. She'll also focus her efforts on supporting AAPPR's strategic imperatives, including empowering members and working to elevate the profession of physician and provider recruitment.
The most critical focus of Aisha's role will be leading efforts to diversify AAPPR's board. She believes she not only has the power to advance diversity within AAPPR, but to support physician and provider recruitment professionals in their work to create a more diverse healthcare workforce in their organizations. Her goal is to continue building and working with a board that the reflects the diverse healthcare pipeline and the patients that they serve.
With over two decades of healthcare recruitment industry experience, Aisha is the Executive Director of Provider Recruitment at UVA Health. UVA Health is an academic health system that strives to provide excellence, innovation, and exceptional quality in the care of patients, the training of health professionals, and the creation and sharing of knowledge within a culture that promotes equity, diversity, and inclusivity.  UVA Health is an expansive network comprised of the UVA Medical Center, UVA Community Health, UVA School of Nursing, UVA School of Medicine, UVA Transitional Care Hospital, University of Virginia Physicians Group, Claude Moore Health Sciences Library, and several other strategic partnerships and alliances.
Aisha received her Bachelor of Science degree in communication from the University of Utah and a Master's degree from Liberty University. With over 20 years in the healthcare recruitment industry, Aisha is well-equipped to guide AAPPR toward unprecedented success during her term as Board President, which begins on March 24, 2023 and runs through March 2025.
Additionally, the Board of Directors has renewed terms for Marjorie Alexander-Vermeulen, MBA, CPRP; Allan Cacanindin, CPRP, CDR; Logan Mary Ebbets, MS, CPRP; and Stephanie D. Wright, MSA, CMPE, CPRP.
The 2024-2025 Board of Directors brings together a wealth of leadership and expertise that positions AAPPR for success. With their guidance, the organization will continue to bring innovative solutions to healthcare recruitment.