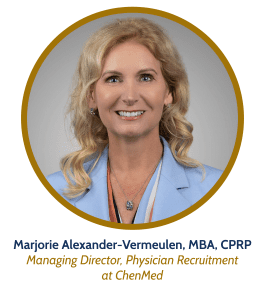 Being part of AAPPR has made a huge impact on my career. I volunteered to present during an AAPPR conference in Minnesota about Applying Lean Principles to Physician Recruitment. Unbeknownst to me, the CEO of American Hospital Dubai was in the audience. Within a few months I was recruited to the Middle East to set up the first in-house physician recruitment department in the Middle East.
During my career in this field, and especially as a member of AAPPR, I have met some incredible, hard-working individuals who really want to be the experts in the field of Physician Recruitment. When I first joined, I was lucky enough to have individuals help me with templates and great ideas and suggestions so that I did not have to re-invent the wheel. Over the years, I have done the same for new recruiters and have offered any tools, templates and techniques I can share. I have built incredible relationships with the vendors over the years, which has strengthened my position as a recruitment leader and has given me additional credibility as an expert in my field.
I'm always singing the praises of being a member of AAPPR. When asked what's the biggest reason someone new to this field should join, my immediate response is networking. Simply stated – Networking Is Everything! Suppose you are serious about being in the physician recruitment world. In that case, you absolutely need to be part of an organization that allows you networking opportunities and unparalleled educational opportunities that can help you advance in your career. It is an incredible feeling to see all your peers during the yearly conference and the amount of love and support you will receive as part of the AAPPR family! The support of the AAPPR family has allowed me to remain in this profession longer than I ever thought possible.
Physician recruitment is rarely a career you choose; it is often something you fall into or stumble upon. Having the ability to be part of selecting the healthcare providers who live and work in your community, where you and your family live, is an incredible feeling and provides a real sense of accomplishment and most of all, pride. YOU can help decide WHO will take care of your community. How incredible is that?
My involvement in AAPPR has not only opened all kinds of doors for me; it has challenged me to do things I never thought I could. Being around so many other passionate people made we want to do more myself. For example, I was one of the first guinea pigs for the Associate, Diplomate and Fellowship exams (Now the CPRP Certification). I was also part of the committee that writes the fellowship questions and presented numerous occasions on various subjects. I am so extremely proud to be part of such an important organization that is so supportive and inclusive. The fact that so many individuals offer their time to volunteer for this organization tells you how important this group is and how we all want others to succeed and how we want to support each other.
Provider recruitment is not a job, it is a lifestyle that we all have chosen somehow. Since my sons were small, they have always known mom was part of an important organization and loved the giveaways I would bring home for them. They were proud of me when I told them I presented to a large group of recruiters. The conferences have become the part of my year I look forward to and I have gone every year except for 2020 due to COVID-19. I always look forward to seeing everyone and meet new colleagues. The best part is always the evening event where everyone, members and vendors spend time together. The mood is different the next day and people have finally had a chance to relax and have fun together as a group. Having a book signed by the author thanks to PracticeLink is always amazing and something I show at home with great pride.
If you are a company that has anything at all to do with provider recruitment, you need to be involved with AAPPR. This is where all provider recruiters go for their education and for their networking and information gathering and guidance. Not participating in the programming, networking opportunities or annual conferences would be a real missed opportunity to bolster your career, brand your company and create relationships and contacts with the people you need to help grow your business. Take it from me; this membership is time and money worth spending and the best ROI you will ever get.
Over the years, so many members have positioned themselves as big brothers and sisters to me. I often needed some career advice and those I've reached out to have ALWAYS been there for me, guiding me when the road ahead was a little unclear. To have that type of support that you don't have in an office setting is invaluable.
In a way, AAPPR has become part of my family story and I would not change a thing about it. I am a proud member of AAPPR.