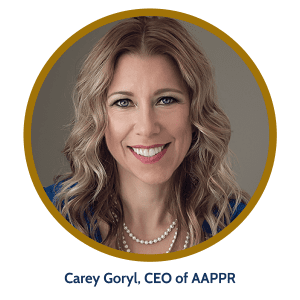 #IamAAPPR is a celebration of our members and the fantastic work they do in health care in their communities every day.
Carey Goryl, MSW, CAE, is the CEO of AAPPR. Carey believes that the #IamAAPPR campaign is a platform to highlight AAPPR members, strategic partners, and programs directly from people living it every day. AAPPR is a committed partner in advancing physician and provider recruitment professionals and their careers, connecting the best and brightest across the United States, but AAPPR doesn't exist without its members and strategic partners.
Carey says that membership in AAPPR is not only about the beneficial opportunities to connect and engage, it is also about the educational content that is not available anywhere else. AAPPR publishes critical data and research unique to the recruitment continuum. AAPPR helps you stand out as an expert in the recruitment profession by offering mentorship, certification, webinars with thought leaders, and so much more.
Carey believes that, by far, the most significant advantages of AAPPR membership are the relationships members develop and their ability to interact with each other. AAPPR facilitates these connections.
"There is a strong sense of pride that comes with being a part of AAPPR – The #IamAAPPR campaign allows us to showcase that pride and our unique members. We hope you'll join us in sharing your testimonials and stories by partaking in our survey."